CompXM®
THE BUSINESS COMPETENCY EXAM
Assessment and Assurance of Learning
Comp-XM®, The Business Competency Exam, is an assessment tool to determine and demonstrate what participants have learned though the Capsim® business simulation experience. Comp-XM® provides Assurance of Learning to support a wide range of stated learning goals.
The unique two-part Comp-XM® examination process uses a business simulation similar in appearance and structure to Foundation® and Capstone®, followed by a series of board query questions that are specific to the results of the answers provided in the prior simulation rounds.
Comp-XM® can be used at the end of a course for assurance of learning purposes, or earlier, to measure content retention.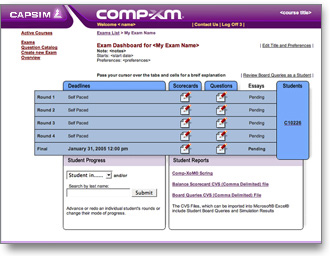 Comp-XM® is distinct among exams for three important reasons:
Comp-XM® tests an individual student's ability to not only answer questions about managing a business, but also tests the student's ability to manage the business. Most exams test only the ability to answer questions.
Comp-XM® continues the learning process for students because they continue to see results from their efforts during the exam activities.
Comp-XM® addresses assurance of learning goals. View a complete analysis of how the Capsim®business simulation experience integrates with assurance of learning.
Assurance of Learning: Comp-XM® Supports Learning Goals
Accrediting agencies and organizations such as the AACSB, ACBSP and IACBE require universities to assure their business students graduate with competencies in stated Assurance of Learning areas. The accreditation process is comprehensive and demanding. Comp-XM® helps universities achieve this objective.
Typical learning goal assessment areas addressed by Comp-XM®
Inter-functional Integration
Innovation and Technology
Effective Business Management
Management Use of Information
Effective Communication
Strategic Business Data Analysis and Strategy Formation
Critical Thinking Skills
Quantitative Learning Skills
Utilize Business Decision Support and Productivity Tools
The Comp-XM® Exam is itself, comprehensive and demanding. It should be. It's an exam. It uses a business simulation to assess business judgement and analytical skills, followed by a series of questions that are one, unique to each student; and two, demonstrate what and if the student learned.
During the exam, students are tested on:
Financial theory and analysis
Operations management
Leadership and change management
Marketing theory and analysis
Integration of business units / areas
Communication
Fiduciary responsibility
The subjects covered during the exam process are:
Marketing
Accounting
Finance
Operations
Strategy
Human Resources
Management
Capsim Capstone: Crafting Corporate Success
Experience the thrill of business leadership with Capsim's Capstone Simulation. Navigate challenges in R&D, marketing, and finance, shaping the trajectory of your simulated company. Perfect for MBA learners and business professionals, Capstone translates theoretical knowledge into actionable insights. Lead with confidence and achieve unparalleled success.