Overview – Capstone Business Simulation India
Capstone®: The World's Largest Selling Business Simulation and the Darling of L&D Leaders Worldwide
Business changes constantly, but the essential building blocks of management remain the same. From marketing and strategy to finance and operations and HR, managers grow and becomes experts in their functional areas and silos. But do they understand how these functional parts work and interact to make a business whole? Do they understand the industry's competitive dynamic and their company's strategy? Can they appreciate and how their work impacts the financials? If not, their business impact will be exceedingly low. Frankly, they are aren't quite ready to "move up." It would be every CEOs dream to have managers who can think and act cross functionally, understand financials and help take the business to the next level of profitable growth. With Capstone Business Simulation, it's not only achievable, it's easy and fun.
Learn Business by Running a Business!
Capstone Business Simulation provides an unparalleled, hands-on experience of running a business. The Capstone Business Simulation is like business itself: complex, competitive and constantly changing. It's provides an opportunity to use every key lever of business to build a profitable and sustainable enterprise. The result: a treasure trove of developmental outcomes that could otherwise take years to create, helping create astute business leaders with commercial acumen and the confidence and ability to help drive business growth and profits.
The program provides participants with a clearer and holistic understanding of the business, a sound understanding of financial objectives and metrics, and lays the groundwork for smart, business-savvy decision making that will favourably impact your company's productivity and profitability in the face of competition and change.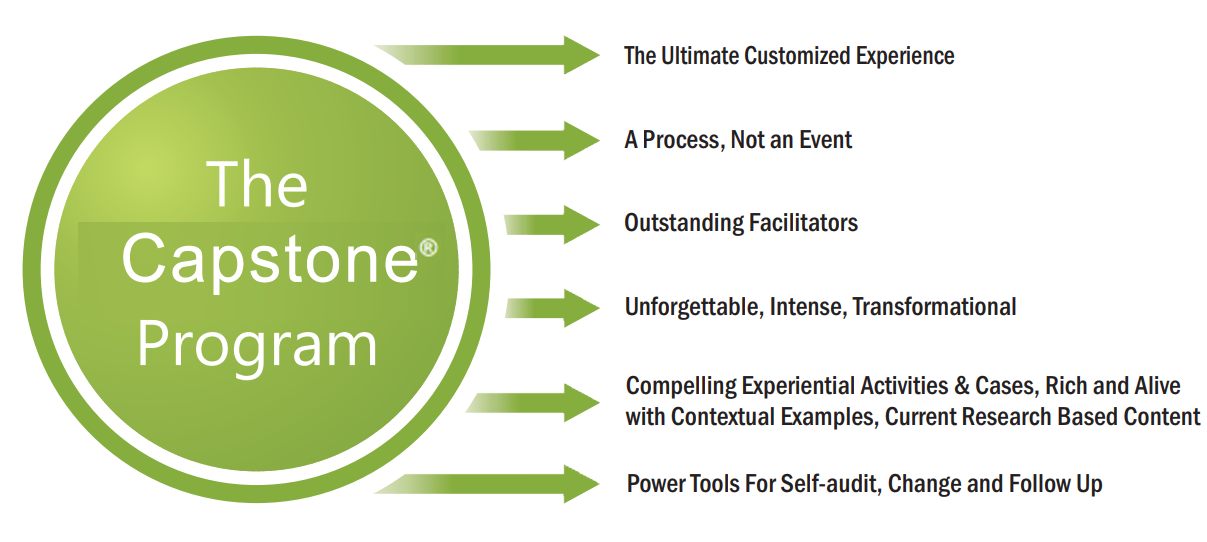 Building a solid foundation for leadership
Our programs are a jump-start for leadership development. They improve business understanding, enhance business communication, increase engagement and enhance performance by getting all your people on the same page. Participants come away with a clear understanding of how the business works and how it sustains profitability. They'll gain valuable insights into how all the parts fit together- and they'll see with clarity how their individual contributions affect and drive the bottom line.
The Capstone Business Simulation: The Gold Standard in Simulations globally
Capstone Business Simulation is the preferred choice globally at some of the world's most respected corporations and business schools and is used extensively in/at:
Management Development Programs, Executive Leadership Programs and Leadership Development Programs
For Business Acumen Training
Management Retreats and Leadership Training
Strategy Simulation Programs and Strategy Training
Executive Education Programs, Executive Leaders Programs, Executive Leadership Development interventions
Executive Learning Programs
At Business Games, Management Games, Strategy Games and Experiential Learning interventions
Business Strategy Games
Strategic Thinking development programs and interventions
A staple at corporate training, management training, and business training programs
Developing Executive Leadership
Strategic Thinking development programs and interventions
A staple at corporate training, management training, and business training programs
Developing Executive Leadership
High Potentials Training
Transforming your managers into great business leaders
Our programs are designed for anyone whose work impacts or should impact your company's bottom line and who would benefit from a more solid base of business knowledge and understanding.
High potential employees are ideal candidates, as well as successful professionals who have excelled in their specialized discipline- engineering, HR, IT, R&D, sales, HR, manufacturing, supply chain – and are assuming expanded management responsibilities. The training equips your decision makers with critical business skills that might otherwise take years to develop. It can also be an excellent refresher, and often a valuable eye-opener, for experienced managers, even if they already have advanced business degrees.
Enhanced Business Acumen
Improved market-based decision making skills
Clearer understanding of the company's strategy
Better alignment of strategies and implementation
Effective and applicable understanding of how various functional decisions effect the numbers
Enhanced financial literacy
Improved cross-functional collaboration and teamwork
Improved problem-solving based on customer needs, competitor information and company data
Simulations train pilots, soldiers, logisticians and doctors — professions where learning is vital and mistakes can cost lives and big money.
But mistakes during simulations result in valuable teaching moments – with no harm done. We now see a dramatic increase in the use of human capital development simulations. The understanding and study of business is well suited to simulations. While business mistakes rarely cost lives, they can cost livelihoods.
The Perfect Adult Learning Environment
Learners need to know why they must learn something; they are relevancy-oriented
Learners learn best experientially
Learners approach learning as a problem-solving exercise
Learners learn best when the topic is of immediate value
Incomparable Engagement and Interactivity with Simulations
Hands-on experience teaches better and faster
Lessons anchor in mind and emotions
Dry financial data comes to life
Experiential learning moves people out of their comfort zone to stimulate fresh thinking
Simulation breathes life into a sometimes arid topics
Learners see, experience and drive the live linkages between business functions, decisions and results
Learner love interactive, realistic problem solving exercises
Are you pondering over some of the questions below? If you are, our simulation programs will jump start the learning process:
Do our people demonstrate an understanding of how every one of their decisions affects their company's metrics?
When making decisions do our people actively consider the potential impact on other parts of the organization?
Do our people actively consider the financial implications of their decisions?
Do our people demonstrate an understanding of what they can do to accelerate the execution of their company's strategies?
Do our people demonstrate an ability to synthesize information about your Customers, your Competitors, and your own Company?
Do our people think and act in a holistic manner?
Do our people make decisions that are 90% of the time effective in contributing towards the growth objectives of the company?
Business Benefits : Clear, Immediate and Usable
A clear understanding of how the business actually ​makes money
Enhanced business acumen and commercial sense.
A better understanding of the company's strategy
Enhanced market based decision making skills
Spot, interpret and monetize business opportunities
Understanding and using Business Essentials:

What is my company's strategy? Why? Is it effective? What are the risks?
Growth, Margins and Profits
Business Velocities and Cash Flows
Customer buying criteria
Business Finance: comfort with numbers
Cross functional alignment – how do the functional pieces of a business fit together and work in unison for a thriving integrated business
Aligning program structure and content with the needs of your business
Our programs would always cover the core essentials of a business. However, we could provide emphasis and tailor areas to your primary learning areas and objectives to meet the unique needs of your organization. To assure maximum impact, training is scheduled at a site of your choosing, exclusively for your own group. Some common themes / areas of emphases are revenue, profits, strategy, finance, cross functional alignment to name a few.
Given the need for today's top managers to possess broad expertise that spans business disciplines, our programs enable executives to quickly expand their knowledge base across all core functional areas through the program's integrated core curriculum. The rich scope and depth of our programs and the wide range of functional and industry discussions also provide exposure to valuable new perspectives on management.
Most senior executives do not have the time to constantly refresh their core managerial skills with the latest academic research and best practices. Even if they already have an MBA or related business degree, many executives are still relying on skills and principles learned years ago to manage in a business environment that changes dramatically every year. Our programs enables executives to quickly update and extend core management skills that apply directly to today's global, highly competitive, and dynamic business landscape.
The program enables participants to conceive, create, and iterate a road map for their businesses. As a result, participants return to their organization with both a plan and the tools to drive results.
Shape your organization's future
While making participants apply and learn from general management principles, our programs emphasize strategy and market leadership. The programs compellingly highlight the strategic impact of each core functional area of business and strategic leadership in the global economy. This focus enables executives who have devoted much of their careers to internally or operationally focused roles to step back, expand their perspectives, and identify breakthrough insights that will drive their organization's future success.
A Big Return on Investment
Our simulation experiences create huge value for your business!
Because teams actually engage in decision-making they acquire the knowledge and skills very quickly and are able to apply the learning to their jobs very fast. It is applied learning through self-discovery at its best! To help you achieve your business growth objectives and learning objectives, we work closely with you to understand your desired outcomes so that we can select the most appropriate simulation and emphasize the right aspects and topics of the simulation during the facilitated program.
Our simulations cut across business functions and teams have the opportunity to discuss and analyze business issues which have to be addressed in a functionally integrated manner.
The Capstone Business Simulation® Learning Environment
Deriving from the desired outcomes above, the Capstone Business Simulation learning environment, is:
Highly interactive
Is team-based
Treats learning as a cycle
Builds incrementally upon each insight
Allows time for reflection, consolidation and internalization
Embraces mistakes as a tool for learning
Provides the big picture and an opportunity to connect the dots
Nurtures new mental models
There are lots of Executive and Management courses out there. How is this one different?
It is every CEO's dream to have a managers who :
Have a broader cross functional understanding of the business
Understand the financials behind business decisions
Understand their company's strategy and how it makes money
Can help take company on the road to profitable growth
Our programs address these key drivers, providing the an environment where participants learn by doing by solving problems in a realistic business environment. Our programs are all about action and application. Participants are given all the tools and help they need not only to apply the learning from the training, but to make it an integral part of their day-to-day management and decision making.
The materials are timely and instantly relevant; this isn't education in a dry vacuum. Our facilitators are constantly combing current news and global events to bring cases and media coverage into the program – thought-provoking topics that help the group explore what's really going on in their industry and in the business world today. Finally learning environment is non-intimidating, and at the same time, intensely interactive. There are no soporific monologues, no formulaic or canned presentations.
Aligning course structure and content with the needs of your business.
The structure and content of our programs can be aligned to meet the unique needs of your organization. To assure maximum impact, training is scheduled at a site of your choosing, exclusively for your own group.
Flexible Delivery: Get it the way you want it
Facilitated Workshops are great because there's more interaction and opportunity for discussion. It's a very rich experience as participants learn from each other as much as from our facilitator. Competencies are developed through problem solving in a competitive environment in the simulation, self-discovery, team discussions and facilitated group discussions. Management theory/content tailored to the client's needs is integrated into the discussions led by our facilitator/consultant.
Whether part of a larger management development effort or, a stand-alone workshop, teams run the simulation at different points in a workshop.
During the simulation debriefs, linkages between the simulation, topical content and your real business are discussed. This is the ultimate in applied learning!
The structure and content of our programs can be aligned to meet the unique needs of your organization. To assure maximum impact, training is scheduled at a site of your choosing, exclusively for your own group.
Delivery Formats and Duration
The program is flexible in terms of its delivery format. Its delivery format determines the duration of the simulation. The following delivery formats are available:
On-site program ( typically 2 days): Your managers would come together at a business centre / training retreat for a 2 days' exhaustive program. They would complete multiple rounds on the business simulation with a Capstone Business Simulation Facilitator.
Online delivery: Your managers can choose the pace at which they would like to do the simulation. They may opt to go for one or two rounds a week. That would mean that they would complete the simulation between 2 weeks to 8 weeks.
Hybrid (Blended) Format:One day or half day onsite and balance delivery online.
Custom Format:We could explore varied delivery options to suit your learning needs.
The structure and content of our programs can be aligned to meet the unique needs of your organization. To assure maximum impact, training is scheduled at a site of your choosing, exclusively for your own group.
Evolved versus Custom Simulations
Evolved simulations such as Capstone Business Simulation and Foundation®; provide better training than custom simulations.
Many businesses believe their business is unique. When it comes to training, they make what seems a logical leap to the assumption that to train their people, they need a simulation that mirrors their industry. There is a flaw in the assumption. When managers' minds are constrained within the boundaries of the issues they deal with day after day through a custom-made simulation, two things happen: first, they begin to critique the model and find reasons why it is not an exact reflection of their industry and second, they are not motivated to think out of the box.
Capsim® uses Foundation® and Capstone Business Simulation to train people in aerospace, pharmaceuticals, retail, automotive, white goods, medical devices, consumer electronics, investment banking, insurance, electricity generation, semi-conductors, software, telecommunications, oil & gas, diesel engines, earth moving equipment and other industries. The simulations give participants a completely new business model within which they can take risks, explore options, think in new ways and – most importantly – discuss how their new insights can be applied to their own jobs.
Custom simulations are valuable in teaching specific skill sets for specific tasks. However, years of experience demonstrates that to train managers in strategic skills or overall business acumen, an evolved simulation is the better choice.
Consider these reasons for choosing Capstone Business Simulation or Foundation® to boost learning potential for business simulation-based seminars:
A custom simulation is written to reflect a specific company's beliefs or industry's norms. It closes participants' minds because they inevitably begin to think, "does this simulation really reflect our company's experience?" It also may leave participants with the impression that they know everything they need to know, when the greatest threat to a manager or executive is the things they don't yet know that they don't know!
An evolved simulation is not constrained by existing market realities so it can expose managers to other aspects of business. It takes their thinking into unfamiliar realms and generates better, more creative business thinking.
An evolved simulation has been scrutinized and shaped by ideas drawn from hundreds of business school professors, managers and executives, and hundreds of thousands of participants.
An evolved simulation is supported by a skilled staff that can assist trainers and participants alike. No question can be posed they cannot answer. No problem can emerge that they cannot solve.
If a custom simulation were as rich and robust as Capstone Business Simulation or Foundation®, it would require significant server space. Capstone Business Simulation and Foundation® are online and require no space.
Buyers can test an evolved simulation in advance. A custom simulation is paid for first, on a take-it-or-leave-it basis.
The Capsim® evolved simulations are used by companies in a wide range of industries, from heavy equipment manufacturers, pharmaceuticals and IT designers and manufacturers to insurance companies and retailers.
Capstone Business Simulation for a Winning Mindset
Any management competency framework in today competitive world includes a healthy dose of business acumen, financial acumen and strategic thinking. As uncertainty and fluidity grows in leading to a VUCA world, strategic thinking skills are essential. Our Capstone Business Simulation programs, workshops and courses would help develop these competencies in an compelling and enduring manner. Developing and honing strategic thinking, business acumen, financial acumen, commercial acumen through Capstone Business Simulation are key to effective managerial performance today. Our Capstone Business Simulation programs are one of the most highly acclaimed in India today.
Capsim Capstone: A Strategic Overview
Capsim's Capstone Simulation: Where business visions come to life. Engage in R&D ventures, craft marketing strategies, and steer financial directions in a competitive virtual space. A beacon for MBA students and corporate strategists, Capstone offers a 360-degree business perspective. Ignite your strategic potential and redefine success.
Capsim®'s Simulations are used by top companies globally in every industry
| | | |
| --- | --- | --- |
| Alcoa | Allstate | Barclays |
| Bendix | Bridgestone-Firestone | Caterpillar |
| CEF Industries | Citibank | Coca Cola |
| Computer Associates | Cooper Industries | Cray |
| Cummins | Dell | Discovery Channel |
| Eastman Chemical | General Electric | General Motors |
| General Re | Goldman Sachs | Goodyear |
| Griffin Pipe Company | Herman Miller | Honeywell |
| International Truck & Engine | Infosys | Iris International |
| JCB | John Deere | Johnson & Johnson |
| Johnson Controls | Level 3 | Linde Group |
| Lockheed Martin | Microsoft | Nestle |
| National Association of | Broadcasters | Oracle |
| PricewaterhouseCoopers | Rio Tinto | Samsung |
| Schneider Electric | Sempra Energy | Snap-on |
| Sony Music Entertainment | Square D | Sterling Jewelers |
| TATA | Taiwan Semiconductor | T-Mobile |
| TransUnion | W.L. Gore & Associate | Wipro |
Capstone Business Simulation in India has benefited tens of thousands of corporate participants over the past decade.
Join the ranks of Capsim Capstone Business Simulation India users worldwide, including universities and businesses in India, as you immerse yourself in a hands-on business simulation for practical learning.
Looking for Capstone simulation Instructor, Facilitator, Faculty, Professor?- please contact us at +91 9871095285 or email at veermehta@businessthink.in and we will get back to you within a few hours.